STOP THE BUDGET(STB) Action #1:
Below are the email addresses of five Conservative MPs, along with some suggested text. Please email them and report back with a comment to help us keep track of the campaign's progress.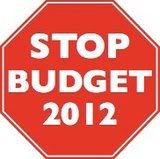 Pat Davidson: pat.davidson@parl.gc.ca
Royal Galipeau: royal.galipeau@parl.gc.ca
Jim Hillyer: Jim.Hillyer@parl.gc.ca
Ed Holder: ed.holder@parl.gc.ca
James Rajotte: james.rajotte@parl.gc.ca
Be sure to email them all separately!

Here is some suggested text. Use it, or write your own. Above all, please be respectful.


Dear Honourable XXX,

When the vote on banning asbestos was called, you had the courage and strength of character to abstain. I respectfully ask that you not participate in the upcoming Budget vote -- call in sick instead.
The gutting of 50 years of environmental legislation will have profound implications for the health and safety of Canadians. There is quite simply no justification for ramming sweeping changes through in an omnibus budget bill. Please defend our democracy and insist that the environmental provisions be separated from the Budget, discussed in the appropriate committees and thoroughly debated in the House.
Sincerely,
(Name, Address, Postal Code)